This article shares the issues related to finding the unit that best fits the size of your room.
The below chart is a good reference to see the minimum and maximum BTU of a room. As every room is different due to layout, insulation values of the walls, how many windows there are, and which direction the room faces the sun, the minimum and max can paint a picture if the customer is dramatically over or under-sizing.
Issues when running an oversized PTAC or AC in a room when cooling:
The first thing we would notice is it would not run in cooling mode for long. If a unit is running for less than 5 minutes on average on a hot day, the unit is most likely oversized. If the unit shuts off and on quickly and consistently there are many problems this can create.

Energy consumption would be increased. The start and stopping of the motors and compressor take up more energy. This will make the unit less efficient.

The starting and stopping of the components will wear out faster. This will increase maintenance issues and reduce the lifespan of the unit.

Humidity in the room will not properly be removed due to the unit not running for a proper amount of time. This creates the room to feel damp which then leads to bad odors and mold.
Issues when running an oversized PTAC or AC in a room when heating:
When the room heats up too quickly causing it to cycle on and off frequently. This results in uneven heating with some areas of the room feeling warm while others remain too cool.

This may lead to premature wear and tear due to the extra short cycles as a result of rapid heating. This can result in increased maintenance and repair costs over time. This also decreases the lifespan and increases the need to replace the unit sooner than expected.

The unit is not able to run for long enough to dehumidify the air adequately. This may lead to excess indoor humidity and may contribute to mold and mildew growth.

The oversized PTAC unit is not operating within its optimal efficiency range. This results in wasted energy and increased greenhouse gas emissions, contributing to environmental concerns.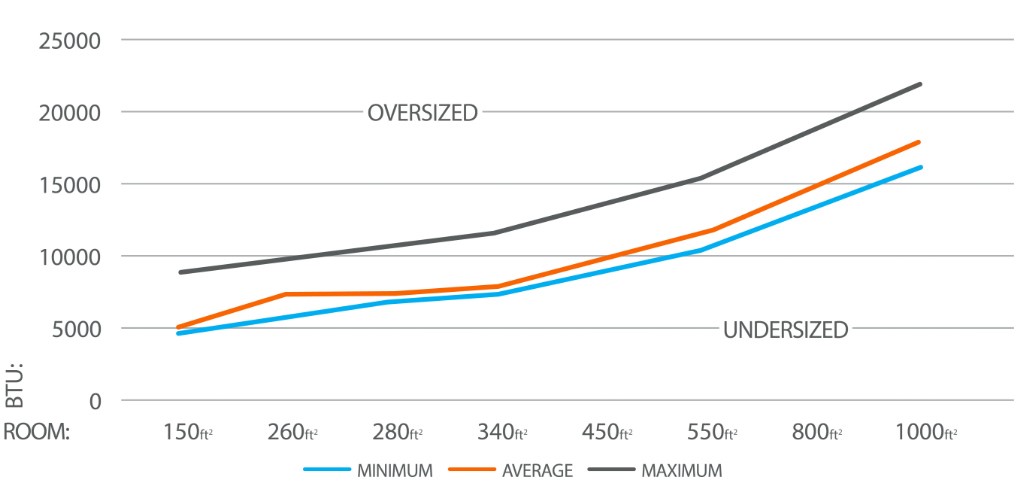 Use the above chart to determine if your unit is the best for your room. Most issues are due to having air gaps in the wall sleeve or poor insulation in your windows. Please determine any environmental-related issues as this does not have anything to do with your unit and opting for a larger unit will not solve the problem. Air gaps or insulation issues should be addressed as this would be costing the customer heavily on their electrical bills.