Each thermostat out of the box comes with the thermostat and receiver paired. This article is to be used if you are repairing the receiver and thermostat. For example, if you have multiple thermostats and are not sure which ones match. However, this is a troubleshooting step that can be used to resolve issues with the thermostat not communicating with the receiver. Another way to identify the receiver to the transmitter, the serial number noted on the back will match each other.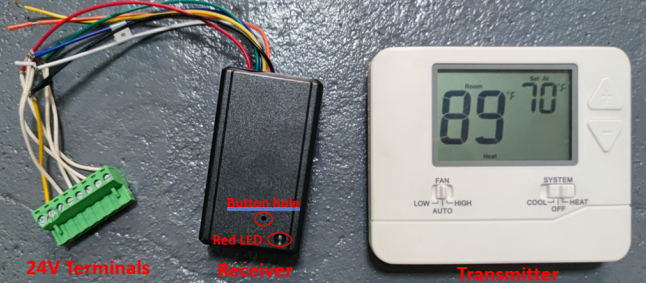 1. Receiver: Put a slender object into the hole and hold down the button on the receiver for 5 seconds until the red LED flashes and then releases it.
2. Transmitter (Wireless Thermostat): Turn the SYSTEM switch to OFF. Press and hold"+" and "-" together for 3 seconds to access the interface of room temperature calibration. Then press and hold"+" and "-" together until "LE" is displayed on the LCD. Next press and hold "+" for 3 seconds, the transmitter will transmit the code signal. When the red LED on the receiver stops flashing, indicating that the code is successful.